What is the action of 
Healaflow?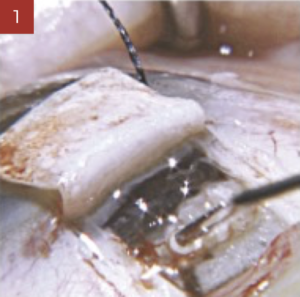 filling the decompression Chamber (non-penetrating surgery) 

 Fig. 1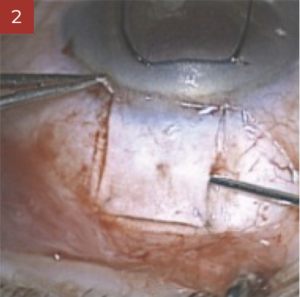 lifting the scleral flap to fascilitate acqueous filtration  

Fig. 2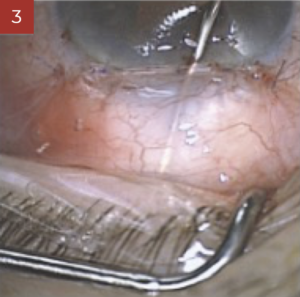 Lifting the conjunctiva to prevent contact to the sclera  

Fig. 3
What is the role of 
Healaflow?
at the early stage of the surgery by controlling the filtration level in the scleral space. The volume of the implant expands from swelling of the sodium hyaluronate molecules with aqueous humour.
at a later stage through the spongy structure of the reticulated meshwork aqueous humour outflow is facilitated to maintain the IOP at a low level.
6 main reasons to use Healaflow
A prolonged duration of aqueous filtration is required to lower intraocular pressure. Healaflow is present between 3 to 6 months, thanks to its cross-linking process
Healaflow contributes to improve Complete Success (CS) and Qualified Success (QS) Rates, with effective and significant IOP decreases and reduction in postoperative medication. Recent clinical studies report that CS and QS rates reach 77% and 85%, respectively, after deep sclerectomy using Healaflow. These rates reach 75% (CS) and 88% (QS) after viscocanalostomy.
The nature of this resorbable implant and the ergonomy of the syringe permit each surgeon to easily, inject the exact needed quantity, according to individual requirements. Healaflow ejection is precise, thanks to its cross-linked structure.
Healaflow is indicated in penetrating or non penetrating glaucoma surgery (trabeculectomy, sclerectomy, viscocanalostomy, shunts). The cross-linked matrix of Healaflow improves the gel stability at the site of injection and reduces the risk of undesired migration.
Healaflow can be combined with anti-fibrolastic (such as Mitomycin C, 5FU) and anti Vascular Endothelial Growth Factor treatments. Healaflow is manufactured with NaHa made from bio fermentation. It completely mimics the NaHa naturally occuring in the human body, like in the eye. There has so far been no evidence to suggest detrimental interactions with anti-fibroblastic or anti-VEGF.
Healaflow does not require learning curve. It can be easily and rapidly adopted and mastered by any surgeon, whatever its favorite surgical procedure and technique. Healaflow does not change the surgical practices, it rather improves the results.
©Healaflow All rights reserved